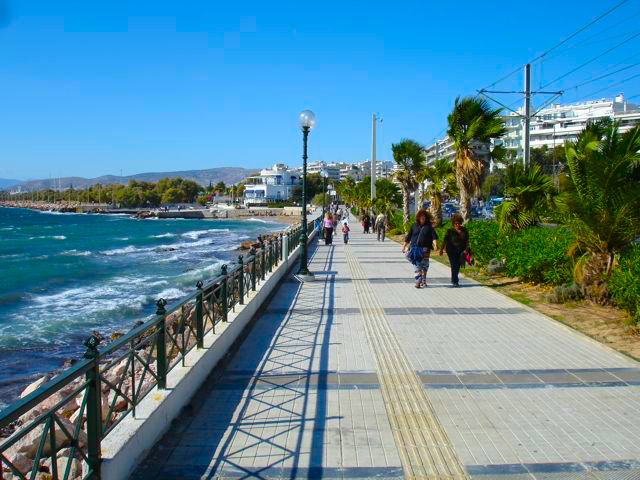 In the last few years more tourists have discovered the southeast coast of Athens, and many were delighted to find that they could stay right on, or within easy walking distance of the sea and still have access to the Acropolis and the museums and archaeology sites of the city by public transport.
With the opening of the coastal tram and the continuation of the Athens Metro all the way to Glyfada, the towns of the Athens Gold Coast, or the Athenian Riviera, specifically Glyfada, Voula and Faliron, have seen an influx of foreign travelers. And why not? All these towns are really extensions of Athens with shops, restaurants, cafes and the one thing that central Athens does not have: the Aegean Sea.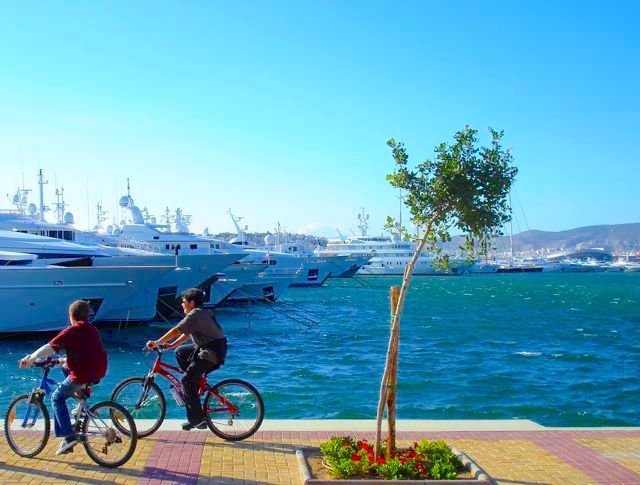 For the travelers who see the news on television and the internet of demonstrations in Syntagma Square, having the option of staying by the beach and going into Athens to see the sites, is certainly a welcome one because as much as going to the islands is what everyone wants to do when they come to Greece, seeing the Acropolis is sort of like a required course. You can't come back from your one trip to Greece and have your friends and family ask you how you liked the Acropolis and having to answer "Ummmm, actually I didn't see it." ( Uncomfortable silence, finally broken up by you saying "... but Santorini was lovely", everyone agrees and the evening proceeds, but the damage is done. They think you are an idiot.) And there are people who just don't like cities, especially ones where everyone speaks a different language from them. You may be one of them. So why not stay on Athens Gold Coast or the Athenian Riviera and not worry about protests interrupting your holiday or having your wallet snatched on the metro. To hell with downtown Athens. Stay at the beach!
Faliron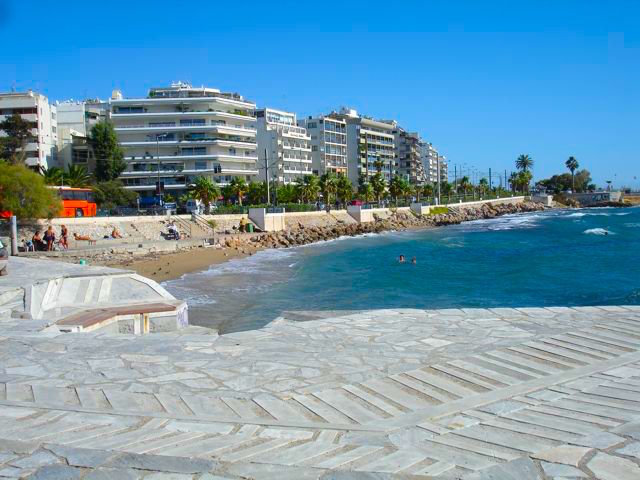 Faliron is the closest coastal town to Athens and like Glyfada and Voula there is a big highway between the buildings and the sea, though there are many ways to cross that are safe and easy, though occasionally time-consuming. There are several nice hotels in Faliron, some on the main road and others tucked away on secondary streets. It looks like a newer cleaner version of Athens, with more modern apartment buildings and shops, restaurants, cafes, and tree shaded streets packed with parked cars. But cross Poseidonas Avenue and you have the beach (OK not the cleanest but probably not much worse than the French Riviera). There is a walking path between the tram and the sea that occasionally breaks away into park areas, similar to Chicago's lake shore, where you can do a morning jog and run forever.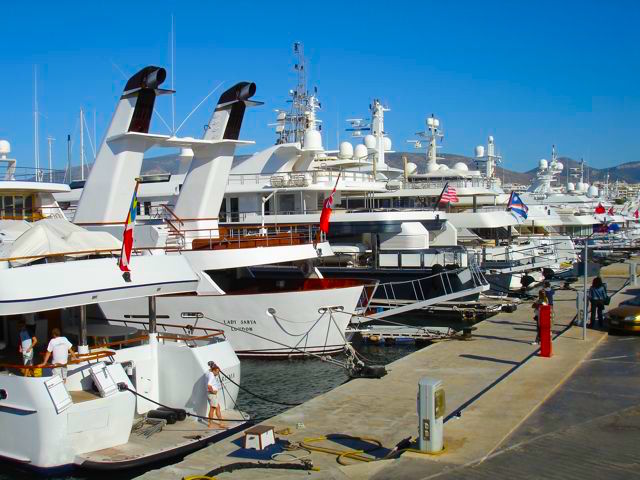 If you go south you come to Edem, a beach with a fish taverna and you end up at the Alimou Marina in Kalamaki where many of the sailboat charters are based. In fact it is the biggest marina in the world so if you like looking at boats you will be in heaven. If you go to your right, or north-west actually, you will come to Flisvos Marina which is what Alimou would have looked like if someone had not stolen all the money that was meant to improve it. Flisvos Marina is home to some of the biggest and most spectacular yachts in the Mediterranean, lined up side by side, and so many of them that you wonder, why can't the Greeks just buy their way out of this economic crisis? The truth is that they are not all Greek and even if they were they could probably care less what happens to the little people. But thankfully, having all these mega-yachts here means that the marina has a number of restaurants, bars and cafes as well as several shops in a modern mall-like area that is nice to go for a drink or a slightly expensive lunch or dinner. This is also an area of nightlife, in fact the coast is dotted with clubs that are mostly outdoor, capable of holding a few thousand people, where you can dance all night until dawn (and then go to see the Acropolis).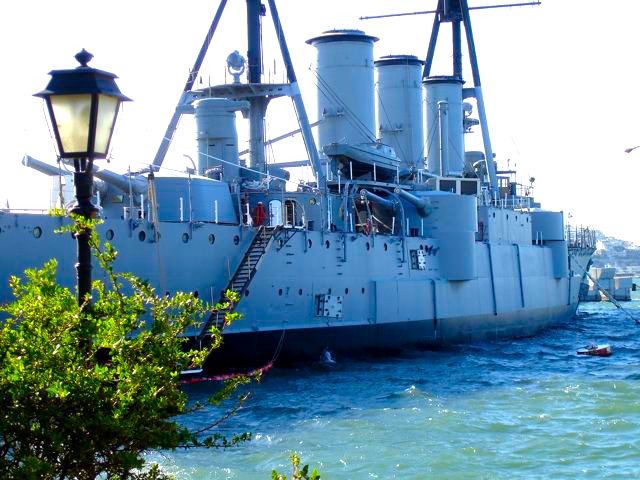 If you continue further you will come to the Battleship Averof which is a museum. The Averof is arguably the most important ship in Greek history since the Battle of Salamis. This dreadnought cruiser is one of the few left on the planet. The Averof was launched on the 27th February 1910 and arrived at Faliro Bay on the 1st of September 1911, where the Greeks welcomed it with enthusiasm. The ship saw its first action in the First Balkan War of 1912 under the command of Admiral Pavlos Kontouriotis. The ship ruled the northeast Aegean and was an important part in the liberation of Mount Athos and the islands of Limnos, Thasos, Samothraki, Tenedos, Aghios Eustratios, Mitilini, and Chios. The power of this ship and the success in the Aegean kept the Turkish Sultan from challenging the Greek Navy and kept the Turkish Navy out of the Aegean. Nearby is the reconstructed ancient Greek Trireme Olympias built in 1987. If you continue on you will see one of the formerly proud monuments to the 2004 Olympics, the Faliron Coastal Zone Olympic Complex, now derelict with even the concrete walkways looking like they are ready to collapse on the highway below. While this is an interesting walk one can't help but fear that he is in danger of being ripped apart by wild dogs, so probably until Greece gets the money to pay for the upkeep and restoration of this area it is best to end your Faliron tour at the Battleship and then head back to the shops and restaurants.
Hotels in Faliron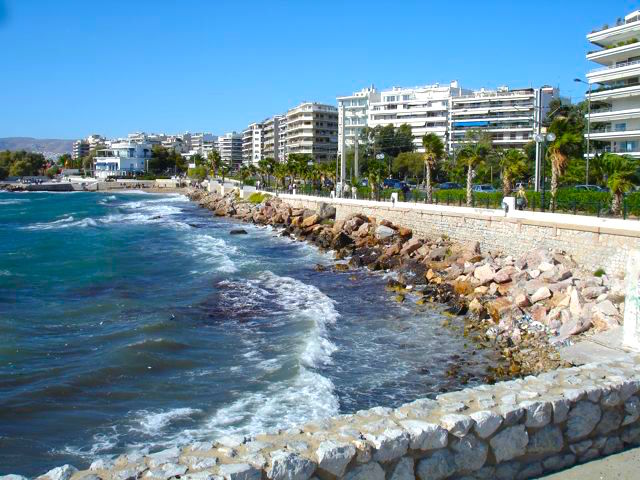 The best thing about Faliron is that you are within 20-30 minutes from downtown Athens and even closer to the ferry port in Pireaus which can be reached by bus or tram/metro or taxi. Located on a quiet street, the 2-star Avra Hotel is a 10 minute taxi journey from Plaka, the Acropolis and the archaeological museums of Athens and right across Poseidonas Avenue from the beach and the coastal tram. The 4-star Coral Hotel offers views of the Saronic Gulf and Kastella Hill and features an indoor heated whirlpool and mini gym and is also right across from the beach. Though there are other hotels in the area, these two are the most convenient to transportation and the beach. Fantasy Travel have several packages which allow you to see Athens while staying in Faliron before going to the Greek Islands. For those who don't like big cities and prefer to be by the sea be sure to check their Far from the Maddening Crowd Packages which along with being the antidote to the insanity of Athens happen to be a very good deal.
Glyfada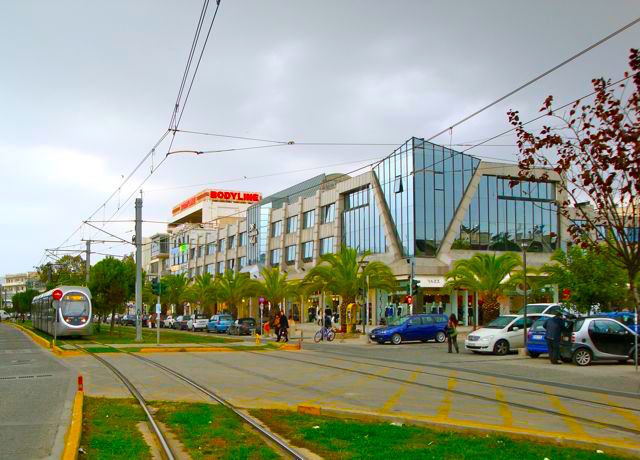 Glyfada Square is the center of Coastal Athens as it has been since the days when the US Airbase nearby made it seem like the Saigon of the Aegean. Though the US military is gone many of the bars and restaurants that catered to the GIs and their families are still open and thriving and some people may notice that their spirit lives on. Glyfada is a major shopping area with hundreds of stores within easy walking distance and the feeling of a big spread out American style mall and at night its club scene brings people from all over Athens, especially in the summer when Poseidonas Avenue can be one big traffic jam. But somehow even when traffic is at its worst it can seems sort of festive. Some have said that Glyfada is the new center of Athens. I won't go that far but there is enough nightlife, restaurant and shops here that you could stay in Glyfada and not even miss Athens.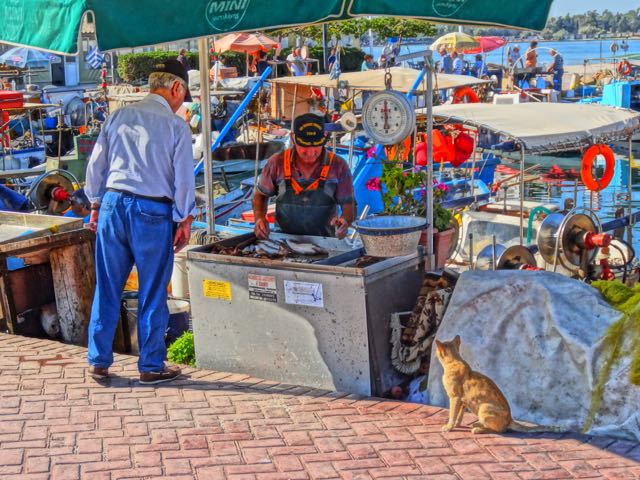 If you cross Poseidonas Avenue from Glyfada Square there are several small marinas, a few beaches, some fancy cafes and restaurants and a seasonal amusement park as well as an area where people play basketball, tennis and football. Swimming wise it is not as far out as you want to be but it is clean enough, especially if you are just here for holidays and have yet to see how nice the beaches on the islands are. Most people go further south to swim but the town beaches are free and quite swim-able. Probably better than the beaches are where you come from. The first 2 beaches in between the marinas are kind of funky but if you keep walking up the coast following the tram line the third beach is pretty nice. There is a small fishing boat harbor where every morning the fishermen sell their fish directly to the customers. There is also a small cafe-ouzerie where the fishermen hang out which is less upscale than the other cafes on the coast. For those who want the full beach treatment you can pay to go to Astir Beach where there are sunbeds, umbrellas, cabanas, music, cafes and who knows what else? This was my beach of choice 40 years ago but I have not been there since.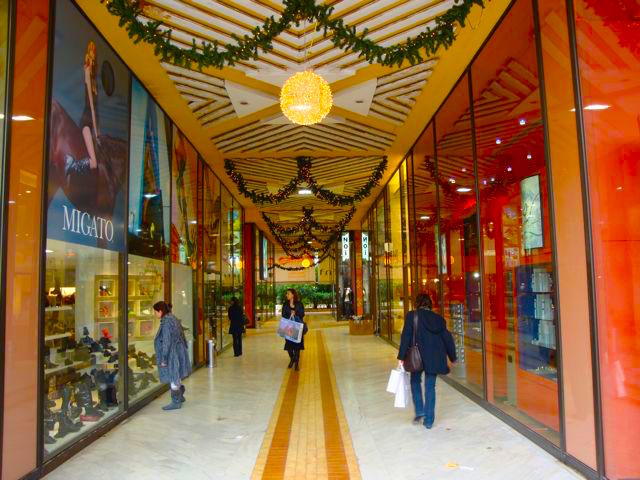 Most of the buildings are modern apartment style and the coastal tram runs down the center of the street giving the town a more cosmopolitan Mediterranean feeling. Like Voula and Vouliagmeni it is the home to many millionaires, Greek popular singers and movie stars, crooked politicians (and probably some honest ones if there are any), wealthy Arabs, and maybe an exiled dictator or two. I guess you could call it the Beverly Hills of Athens but really it is a mixture of wealthy and middle-class. If you live in Peristeri or Goudi and you want to show you have made it you move to Glyfada. If you can only afford a small apartment in nearby Kalamaki you will still tell people you live in Glyfada. To live in Glyfada is prestigious, as is living in Vouliagmeni, but the difference is people who want prestige live in Glyfada. People who live in Vouliagmeni already have it. Though you will see the same style of architecture as you see in other parts of Athens, modern 4 to 6 story apartment buildings, these have nice lawns and are not all scrunched one next to the other with no room to breath. It is like living in the suburbs but stacked up. Glyfada is also home to a real 18 hole golf course, rare in Greece and even more rare back in the sixties and seventies when it was the only one in the country. If you love to shop you will love Glyfada. Any upscale shop that you can find in Kolonaki or on Ermou Street probably has another branch here, and there are several mall style shopping centers.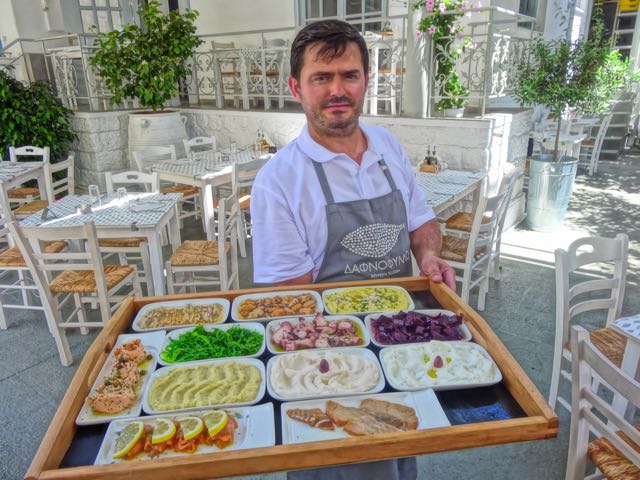 Restaurants in Glyfada include a number of meat places on Kondyli Street which leads off the square. I highly recommend Dafnofilo Restaurant for great mezedes and especially on Sunday when they serve lamb 'Antikristo', kokoretsi and kontosouvli. It is at 8 Kondyli Street right off Glyfada Square. 'Antikristo' is how they roast lamb in Crete. Other nearby restaurants include Barbounaki which is a great seafood restaurant, right on the tram line a few blocks from Glyfada Square in the direction of Voula. It is at the intersection of Dimarchiou Metaxa Angelou and Pandoras streets. If you take the tram from Athens get off at Platia Esperidon and keep walking and it is on the right. Or walk up Flisvis Street from the tram stop and go to their sister restaurant called Sardelaki which is also great. Glyfada has just about any kind of restaurant you want from Sushi to, Indian, Chinese and Lebanese. There are several Italian restaurants and even a TGI Fridays at 43 Lazaraki street if you have come this far to eat American food. You can go from there right to the Hard Rock Cafe just a few steps away. But your best bet may be Paradosiako Tis Larisas at Kypou 19, in a one story house, for brizoles (steaks) and beefsteki (grilled burgers). H Folia tou Koukou has live rembetika music and is reasonably priced but it is a taxi ride away in Ano Glyfada at Zakynthou 51 so it would not hurt to call them to make sure they have music on the night you are going. 2109620068, 2109602241
Hotels in Glyfada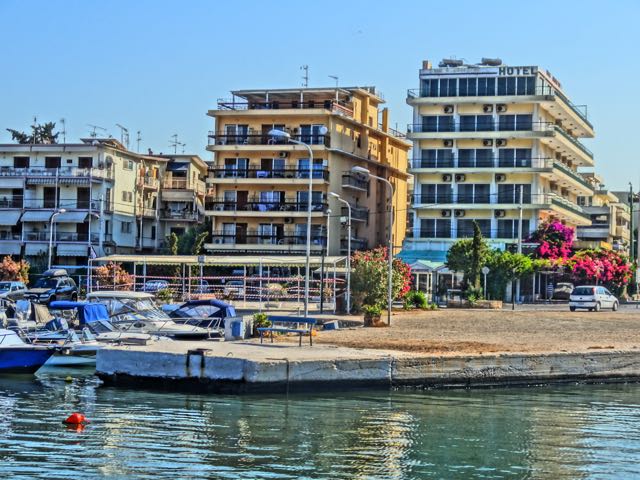 There are several inexpensive hotels in Glyfada, including the Hotel Blue Sky, a recently renovated family-owned 2-star hotel 15 minutes walking distance from the beach and the centre of Glyfada. The 3-star Sea View Hotel is 400 metres from the shopping area of Glyfada and has comfortable and elegant rooms, an outdoor swimming pool with a sun terrace and is close to the sea, the buses and the tram. The 3-star Hotel Londonís location near the tram offers easy connection to Athens centre and the beaches. (The 24-hour airport bus line stops only 50 metres from the hotel). The 4-star Best Western Hotel Fenix has a large swimming pool with sun beds, free Wi-Fi and free parking. Other popular 4-star hotels include the Hotel Palmyra Beach, The Oasis Hotel Apartments, and the Palace Hotel all of which have swimming pools and are within walking distance of the tram and buses. Perhaps the best of the bunch is the Hotel Emmantina, which has a pool and is right across the street from the beach with each air-conditioned room having a view of the Aegean Sea and the ferries going to the islands. Finally the Congo Palace, which was the former officers club when the US Military was here in the sixties and seventies, is newly renovated, has a pool, spectacular sunsets, and rooms especially designed for disabled guests. For those who are looking for a house I recommend Elly's Family House, where I stayed last summer. It is a 3 bedroom house with a large kitchen, garden and an elevator. It is a short walk to Glyfada Square, on a quiet street and is very reasonably priced.
Voula, Vari, Varkisa and Vouliagmeni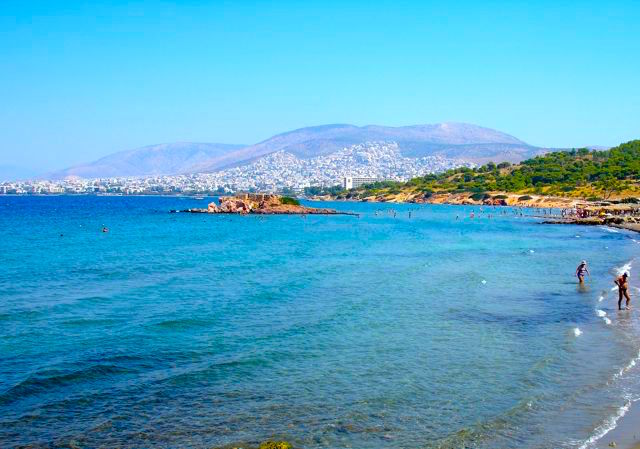 When you get to the towns with the names that begin with a V the swimming gets a lot better, in fact there are many spots that you may feel like you are on one of the islands. In my youth Voula was a seaside neighborhood of small houses and cottages with gardens and a little downtown area. Those houses have pretty much all been replaced by 5 story apartment buildings and the downtown area has spread out and offers several blocks of shops, cafes and restaurants with a Southern California atmosphere and very few tourists. Cross Possidonos Avenue and there is a pay beach with the usual Greek beach amenities(changing cabanas, rental sun beds and umbrellas, snack bars and loud music) and some other areas where you can swim for free.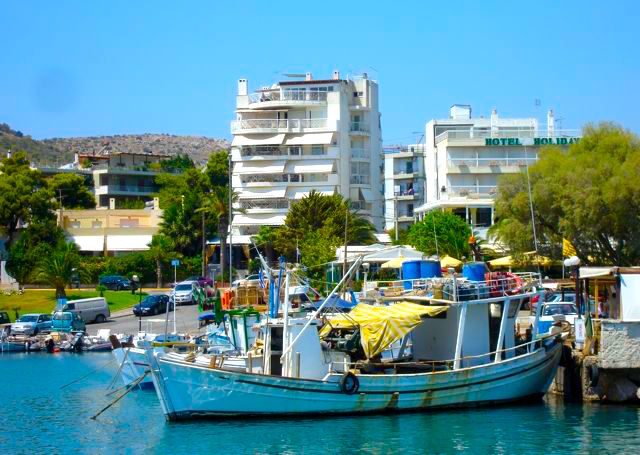 After Voula you come to Vouliagmeni on the coast and Vari inland towards Mount Hymetos. Vari is known for its psistaria's, (or grill houses), where you see restaurant after restaurant with outdoor barbeques cooking whole lambs, pigs, goats, kontosouvli (big hunks of pork on a rotisserie) kokoretsi (organ meats wrapped in intestines and rotisserie grilled) and all sorts of other meat dishes including lambs heads. This town is known jokingly as Cholesterol Valley in reference to California's Silicon Valley, and Athenians escape the city to eat meat in these supermarket sized restaurants. Though some purists claim the area is over commercialized and the quality of food has gone down as its popularity has gone up, you probably won't know the difference and can follow the philosophy of 'If it looks good-eat it.' There are men dressed as traditional mountain klephs, beckoning the drivers of the cars that pass by to come in, and really the area is not very pedestrian friendly so you are better off going with someone who knows which restaurant is good or at least which ones to avoid. Vari spreads down to the sea to a town called Varkiza which has one of the best and cleanest public beaches within striking distance of Athens and a fishing port and fish market. Varkiza like the rest of the coast is a town of apartment buildings, mostly modern, and lots of shops, cafes, restaurants and bakeries. If I was going to live on the coast of Athens I would probably live in Varkisa.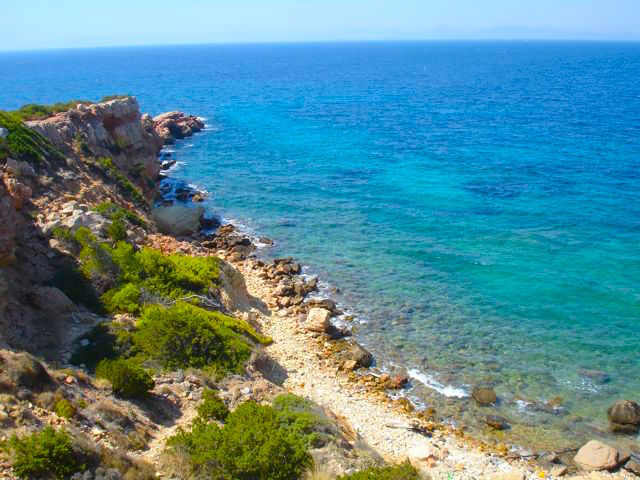 Vouliagmeni is famous for a wooded area with two small peninsulas, Kavouri and Lemos, which have some very nice pay beaches, a couple decent free beaches, some nice swimming areas off the rocks (if you are a good swimmer) and some of the most beautiful resort hotels on the mainland. There is a small temple to Apollo located on the grounds of the Astir Palace Beach Resort Hotel, which has a pay beach with cabanas, cafes and some water-sports. There are also a number of restaurants and tavernas on the Kavouri side, on the sea, some expensive and some not. South of Kavouri is the pay beach of Vouliagmeni which many Athenians I know consider the first of the clean beaches since it faces the open sea to the south and is protected from Athens by the peninsula. The town of Vouliagmeni is across Possidonos Avenue and is mostly modern apartment buildings and narrow streets but there are some mega-cafes and a few fast food and other restaurants. Vouliagmeni, which means sunken, is famous for Lake Vouliagmeni, which supposedly has some healing properties and is the closest natural spa to Athens and is open year round. The lake is fed by an underground river as well as caves from the sea where some American divers from the US base were lost in the early seventies and not found until a couple years ago.
The piece of land that juts out between Varkisa and Vouliagmeni is famous for its many coves where young Athenians flock in the summer because the sea is clean and you don't have to pay to swim. You will know where to get off the road because you will see massive parking areas full of cars in the summer, though you can only catch glimpses of the coves from the road. The E22 bus stops in several places where you can get off and walk down to the coves. There are several cantinas, small stands that sell beer and drinks and some food and the area has a lot more of an organized feeling than it did 40 years ago when we used to come here to swim and not see anyone but our friends. Nevertheless you will still have that feeling that you are swimming on a Greek island without having had to go through the trouble of getting on a ferry boat.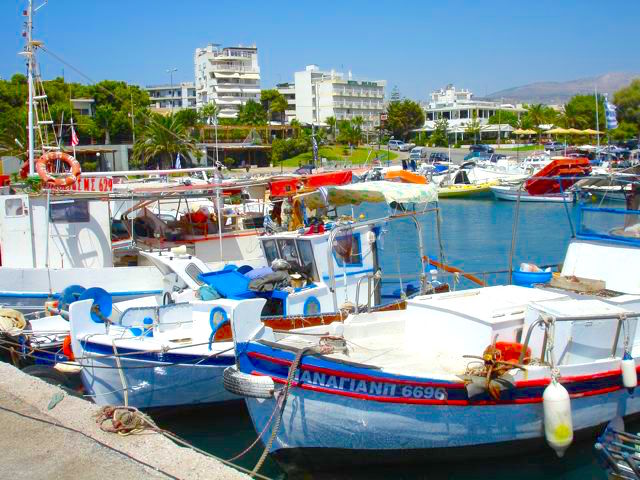 For restaurants in the area check out Naiades at the Platia in Voula for kokoretsi, roast suckling pig, and other meaty dishes. Nearby is Adonis where I have been several times and it is a very good family psistaria, again a good place for meat lovers. For mezedes, grilled meats, and home cooking in a nice restaurant with a garden try Klimataria at Plastiras 3, just a block off the square from Naiades. Louizides is a classic taverna with home-style cooking in Vouliagmeni square. Skara is a modern-style taverna with a view of the bay in Vouliagmeni at 15 Possidonos Ave, which is reasonably priced when compared to the high end restaurants that are on the peninsula. It shares an address with Psaraki which is a fish taverna, also reasonably priced. I have not eaten at either but they are worth a shot.
Hotels in Vouliagmeni and Voula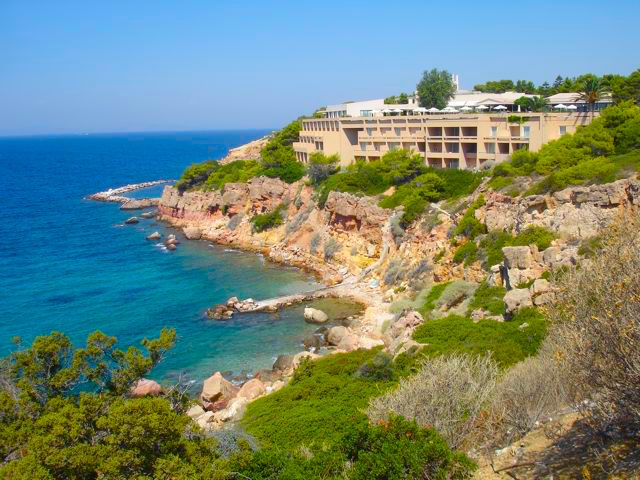 Most people who stay in Vouliagmeni have money, though really the resort hotels here are not overpriced when you consider what you would have to pay and go through if you are staying in downtown Athens and want to go for a swim. The previously mentioned Astir Palace Beach Resort Hotel, is actually several 5-star hotels, restaurants, and spa facilities built on a pine-grown promontory bathed by the clear, turquoise waters of the Saronic Gulf in a location that is said to be the most beautiful in Attica. The Divani Apollon Palace Spa & Thalassotherapy Centre has its own beach, a couple good sized swimming pools, a gourmet restaurant, and was the first hotel in Athens to become a member of the Leading Hotels of the World. Other quality hotels on the Vouliagmeni Peninsula include the Arion Resort and Spa which is actually a part of the Astir Palace and the Hotel Margi which combines the sophistication of an urban hotel with the relaxed atmosphere of a seaside resort. Crossing Possidonos Avenue you will find the Classical Vouliagmeni Suites which is a 5-star luxury hotel and the 4-star Electra Hotel Apartments which are fully furnished apartments. Each apartment consists of a bedroom, living room, full size bathroom and a fully equipped kitchen and can comfortably sleep up to a family of four.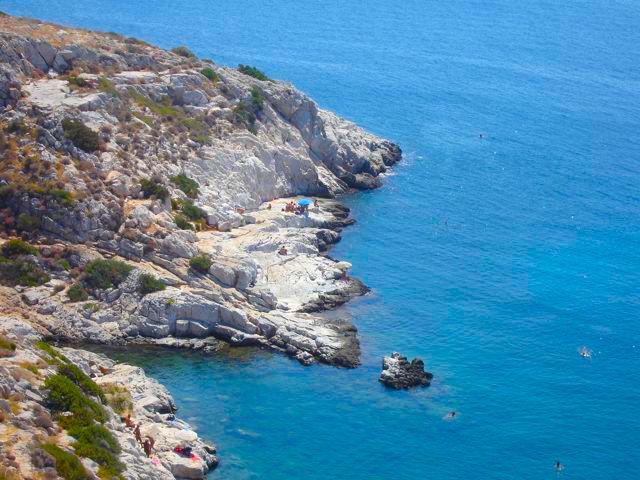 For budget conscious travelers there are a number of choices in the area and though generally you will have to cross Possidonos Avenue to get to the beach, at least you are at the beach and not in the center of Athens. The 3-star NON-SMOKING! Plaza Hotel in Voula is a 5-minute walk from the beach. It offers air-conditioned rooms with balconies and LCD satellite TV. Just across from Voula Beach the non-smoking Hotel Parthenis offers a variety of accommodation and is popular with families. The 3-star Galini Palace in Voula is a great value for money hotel with great views of the sea. The 2-star Miramare Hotel also in Voula, is inexpensive and super-convenient since the X96 bus from the airport to Pireaus (and back-very important) stops right in front of the hotel. In fact all these hotels are within walking distance of the airport bus. (which if you have not figure it out yet means you can take to and from the Pireaus ferry boats). Just as convenient is the 2-star Villa Orion Hotel .
For those who want to take luxury a step further and don't mind sacrificing proximity to Athens for elegance and probably have enough money so that you don't care if there is a bus to Athens or Pireaus because you will be taking a taxi or a limo, the 5-star Lagonissi Grande Resort Hotel may be the finest in Greece and has luxury rooms and suites starting at 300 euros and going up to 2000 a night for a suite with a private pool.
Coastal Athens Practical Information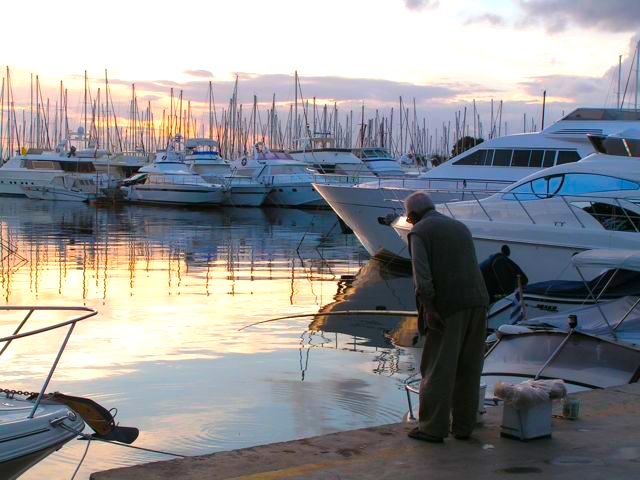 Fantasy Travel has several island and mainland packages that feature hotels on the coast rather than in the center of Athens. If you don't want to be downtown because you are afraid, you don't like cities, or you don't know why but you just don't, be sure to check their Far from the Maddening Crowd Packages which along with being the antidote to the insanity of Athens happen to be a very good deal.
Remember that with the exception of the Vouliagmeni hotels, most of these hotels are on the X96 Airport-Pireaus bus line and many of them are on the coastal tram line. They all have bus service to downtown Athens and you can easily get to and from Athens and the port by Pireaus. A taxi transfer from the airport with George the Famous Taxi Driver should cost you the same as going to downtown Athens. You can also arrange day trips or half days into Athens as well as to Cape Sounion or around the mainland. Getting home at night from the Plaka by taxi is easy if you end up staying out after the tram has stopped running.
There are restaurants within walking distance of every hotel and you can get the names and directions of good ones from the concierge because there is probably a neighborhood taverna that only the locals know about. Otherwise Glyfada is full of restaurants from sushi to psistarias and if you just walk up and down the streets that come off the square you will find something you like.
If you go to Vari for the grill houses try Tassos which is the last place that I ate at and it was pretty good, and there are several nice psistarias in the square in Voula.
Tram and Buses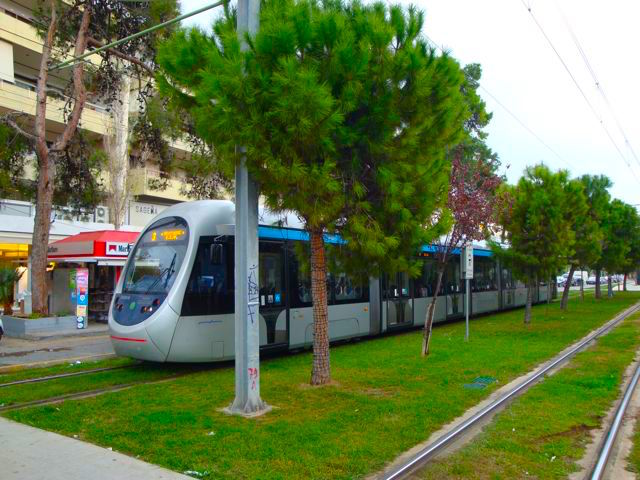 The coastal tram that starts at the top of Syntagma Square zig-zags its way through urban Athens neighborhoods until it emerges magically at the sea in Faliron. Here it splits with one line going along the coast towards Pireaus, ending at the Faliron metro station and the other going southeast to Glyfada, and terminating in Voula. Though slow this is the easiest method of transportation to and from the coast, not including taking a taxi. The tram tracks and Possidonos Avenue follow the coast side by side until the tracks rudely cut across the road to wind its way through the streets of Glyfada, before cutting across the road again to its final stop in Voula. Possidonos Avenue itself continues all the way to the Temple of Poseidon at Sounion and a number of buses follow it, most originating at Akadamias (The University on Panapistimiou Street that looks like ancient Athens, not the Politechniou on Patission street that looks like a scene from Bladerunner). The E22 goes all the way to Saronida/Anavissos, while the A2 and E2 (Express) only go as far as Voula. The A3 and B3 are trunk lines that go to Glyfada and from there you can find several buses that will take you further out to Vouliagmeni and Varkiza.
There are also buses that originate in Pireaus and follow the coast. The A1 and E1 (Express) go to Voula. There are other buses that originate in other parts of Athens that can get you to the coast but for that you need to get the public transportation map that is only in Greek. The one in English is probably suitable for your purposes. What makes the coast even more convenient is the fact that the X96 bus that connects the airport to the port of Pireaus passes through Vari, Vouliagmeni, Voula, Glyfada and Faliron on the way and you just need to know where to get off.
The Athens Metro now goes to Glyfada. It does not quite make it to the square but it is within walking distance (if you don't have luggage) and it is the terminal for all the local buses for the area.